About Us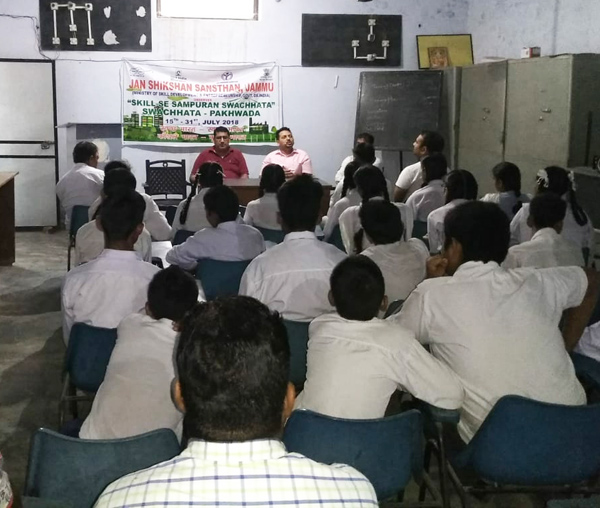 JKS- Industrial Training Institute(ITI) has been set up and registered under JK Society Act on 11-11-2007 and started functioning at Jinder Mehlu, Block Bishnah Teh. R.S. Pura, Distt. Jammu having its jurisdiction area J&K State and serving the rural and border area people and also serving better for the SC/ST backward as well as differently abled persons. This institute is duly recognized by DGE&T, Govt. of India Ministry of labour employment Directorate of Technical Educational, Govt. of J&K as well other Govt/Non Govt. Deptt.
This institute has modern infrastructure and all necessary needs for workshop as well administrative block common kitchen facility are also available. The infrastructure has proper ventilation for fresh air and sufficient natural light and basic facility are also available for their comfort. The administrative block of the institute has been constructed keeping in view of its future expansion. Sports activities are also available. There are also well equipped big hall for conference meetings and has sufficient natural environment with greenery around its infrastructure.
The institute is totally depended upon the funds and grants provided by the Central & State Government and having well qualified / trained staff. This institute is also providing latest machinery and tools for all operational trades as per norms fixed by central and state Govt. concerned.
Admission is being provided to all category having requisite educational qualification. The vocational training is also being provided to young boys and girls of J&K State.
JKS- ITI has started the following facilities for providing education in various technical and professional programmers and pursuing research:
Faculty of Engineering & Technology
Faculty computer science and system studies
Faculty of vocational studies
Our Vision
To develop center of excellence for technical, professional & vocational education and research as per with National standards.
Our Mission
To develop the framework for effectively conducting various educational and research programmers of highest standards so as to produce confident, self-reliant and responsible youth for the society and professionals for government, industry & business.
Objectives
To provide easy access to high quality education in Engineering as well as other professional fields to its students irrespective of their caste, creed, age, gender region or country at affordable cost.
To offer conducive environment for pursuing research & vocational studies with market driven orientation.
To expose students to new ideas, fresh vision, pragmatic ambitions and enhance competency for success in the ever changing business environment.
To provide flexible choice based system of education.
Job-oriented education in rural & border areas.
The Destination
JKS-Industrial Training Institute (ITI) has developed a wonderful environment for education that is conducive to a perfect lending of the new age education with Indian values and ethics. Our highly motivated and experienced teachers help students to attain near perfection in their academic pursuit and enable them to face the world with confidence and determination.
Learning Environment
Qualified, experienced and fully dedicated faculties.
Teaching through interaction lectures.
Practical exposure through workshops and laboratories.
Seminars and symposiums.
Quiz and competitions.
Counselling.
Facility
This institution is having effective system and students are being maintained and kept systematically. The institute has put up a complaint box at appropriate place in the building for listening the complaints of the candidates and right steps taken for overcoming them.